Group Paris Sightseeing Tour With Eiffel Tower Tickets – Half Day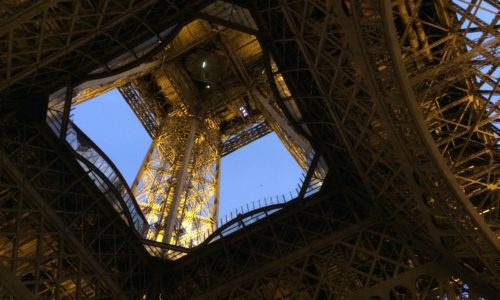 Group Paris Sightseeing Tour with Eiffel Tower Priority Entrance
Guided Paris sightseeing tour with Eiffel Tower priority entrance tickets. Includes services of a professionally qualified Tour Guide & fast access priority tickets to the Eiffel Tower. The visit of the Eiffel Tower is unguided – the group will be by themselves for the Eiffel Tower. If you would like the Guide to stay with you for the Eiffel Tower please ask for a quote.
The Tour Covers The Following Famous Sights
Eiffel Tower, Arc de Triomphe, Champs Elysées, Invalides, Opéra, Place Vendôme, Place Concorde, Louvre, Orsay Museum Notre-Dame Cathedral, Latin Quarter, Iles de la Cité & St Louis, Pantheon. The excursion continues with fast access priority tickets to visit the Eiffel Tower 2nd floor. The Tour Guide finishes at the foot of the Eiffel Tower.
This tour is proposed for prearranged groups, it is a private tour for your group only – un-shared with others.
Group Prices (for whole group)
Duration 5 hours (ie morning or afternoon)
8-18 passengers: 740€ + 20€ p/p (2nd floor), + 30€ p/p (summit)
19-50 passengers: 850€ + 20€ p/p (2nd floor), + 30€ p/p (summit)
51-60 passengers: 890€ + 20€ p/p (2nd floor) + 30€ p/p (summit)
Example: group of 50 pax 2nd floor: 850€ + 20€ x 50= 1850€, so 37€ p/p
All tour prices are for pick ups from a Paris hotel, if the group is staying outside of Paris, please contact us for a quote. For airport or train station pick-ups, please click for Paris airport tours for prices.
Tour Package Includes
Guided tour of Paris with English speaking Tour Guide
Guides in other language available upon request: Chinese, Danish, Dutch, German, Greek, Italian, Norwegian, Polish, Russian, Spanish
Priority access tickets to the Eiffel Tower (2nd floor) – unguided
Photo stops & a couple of longer stops i.e. Notre Dame, Trocadero
Private coach (un-shared with others)
Paris hotel pick up
Parking if required
Tour Package Excludes
Return transfer to hotel, tour ends at Eiffel Tower
Entrances for other monuments
Guided visit of Eiffel Tower
Gratuities (optional)
Why not combine this tour with…
Panoramic river cruise
River Seine lunch cruise
Guided Louvre or Orsay Museum tour
Walking tour
Versailles chateau & more…